Web Design & Marketing
We develop sites specifically geared towards your target audience. If you want an easy-navigation, quick loading site, or something with more impact, we'll create a place on the internet that represents you. We will also help you become a visible part of the internet, make sure that the customers can find you, and we will provide you with tools to make your website stand out from the competitors, not only today, but also in the future to come.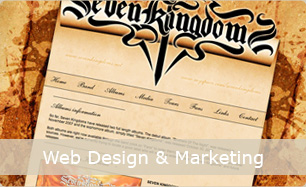 Web Design:
Your website represents you and your company brand to millions of people searching the internet every day. You want it to be attractive, pleasing on the eye, yet at the same time showcase the professionality that you put in every other aspect of your business conduct. A website can be built completely customized to your ideas and your visions. We work with all the current web technologies, are capable of building sites based on good solid html standards to incorporate your content, capable of integrating flash and other visual components into your homepage, working with style sheets to describe the formatting and look of the site and much more.
Mobile Websites:
Let's be realistic, the days of only surfing the web in the comfort of your home, sitting in front of the 24" computer screen, are long gone. People live a fast-paced life, and they want to be able to get the latest information right in their lap (or their hand, so to speak) no matter where and when. With many of today's mobile phones having internet access, there's a growing demand for a clean looking, mobile phone optimized website. How many times have you tried to go look at a homepage through your iPhone, your Blackberry or whatever your device is, only to find out that you have to zoom in and out, move around an almost impossible number of sites and even deal with flash based animations that just won't show up on your cell phone? Here's the solution: following best internet practices, we strive to create an original, clean, functional and great looking mobile website, that will make your customers appreciate your business whereever they are.
Web Maintenance:
Who will be updating your website once it's done? You can either have us do it for a monthly fee, or you can do it yourself. Depending on the way you'd like it done, we can either set up a CMS (content management system - Joomla!, Drupal and Wordpress are some of the most common ones) or keep it as is, so it'll be updated through the standard web editors (Dreamweaver, Arachnophilia, Microsoft Expression Web or others).
Web Marketing:
For a website owner the most important aspect once the homepage is online is to be seen by the potential customers. How do you achieve that? Well, you can pay a lot of money to have an SEO company or a ROI company working for you, someone to do all the work of promoting your site around the net, someone submitting you to the search engines, someone to do AdWords Campaigns and more; and in reality this is actually not a bad idea at all. We have contacts ready for you to several of those companies you can work with. But the first step is to make sure your site is optimized for the search engines, that it doesn't show up as negative or even as spam, that it gets ranked automatically high in searches and that the right coding and meta tags are added. We will assist you with this, and once that's in place, we'll help you find the right partner for further online marketing.
Social Media:
Are you a blogger? Do you have a Facebook for your business? Do you tweet? Are you LinkedIn? Or how about Myspace, YouTube, LastFM and so on? All those social media sites are plentiful and more often than not you'll find yourself wondering "do I really need one of these"? The answer lies within the business model you've chosen to represent your brand. If you want to discuss setting up any of those, we're here. We know which ones work with which business model, and we'll help you set them up, implement them into your web site, and even give you some pointers on how to quickly update all of them at the same time.

CD Artwork & Design
Artists often have an idea in mind of what their future album cover would look like, but putting those ideas into a successful format is not always easy. This is where we can help you. We've created several album covers and designed lots of booklets over the years for artists, small and big, worldwide. We make you an integral part of the process, creating a design that stays true to your original idea, and represents your music and conceptual vision.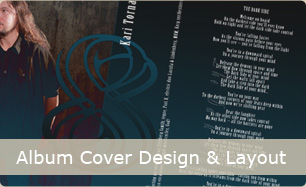 Front Cover:
Your band has finally completed a great album, you've set up the right distribution channels (you might even have a strong record label behind you), but you desperately need a cover that represents your band and the concept behind the songs on the album. Look no further, we'll be happy to help you achieve that frontcover that goes with your music. We either design it here at Intromental Design Agency, or contract one of the great artist we know and have worked with for years, to put your vision into an image.
Booklet Design:
Once the frontcover is in place, the booklet needs to be created - we can set up a booklet of everything from 4 to 24 pages, from a standard jewel-pack to a digi-pack with fold out pages or inserts. Everything can be accomplished just the way you envisioned it. We'll make sure to graphically enhance the booklet - it's not just about slamming some text on a black or white background, this is all about creating a "flow" that makes the booklet stand out and follow the vision you've created with your frontcover and your music.
Text Implementation:
Your lyrics are often just as important as the music, so of course we'll make sure they are part of the booklet and that they are given the attention and focus they deserve. From simple, easy-to-read fonts, to something more fancy or mystical, we'll get it right for you.
Picture Editing:
You've gone through the hard job of writing, rehearsing and recording the songs - you have the perfect cover artwork in hand - but you also need to get some band pictures into the booklet, right? First of all, we work with great photographers all around the World, and if you don't have anyone taking your pictures already, we'll gladly recommend you some highly talented people. But what then? Oh yes, the pictures needs to be added to the booklet, and they need to blend in well with the layout and not stick out like a sore thumb, right? We'll take care of integrating your pictures and your band logos into the booklet, nice and smooth.
Printing Standards:
When printing an album cover, (as well as any other print material such as business cards, posters, flyers, info sheets etc), there are certain procedures and tools to keep in mind. We know which color schemes to use when, we know which templates serves best with different printing companies, and we know how to apply to given size specifications. In the end, we want your product to look picture perfect, and you to be proud when you have your final CD in hand.

Other Graphic Design Tasks
Running a successful business or musical group is all about marketing and showcasing your brand. We can help you meet the demands of your clients, and more importantly of your own. If you are in need of a to-the-point information folder, clever looking advertisements for your latest product, a graphically pleasing logo, or something completely different, we'll help you achieve this in the most professional manner.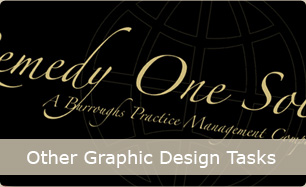 Advertisement Design:
Sometimes we all need to promote our business with an advertisement. It can be either in a physical media like a newspaper or a magazine, but it can also be through banner advertisement on the internet. We'll create clean looking, well-rounded and well-representative advertisements for your products.
Business Cards:
First impression is important! Who would think that just by the impression given from a tiny piece of paper your future working relationship with a potential customer can be a "yes" or "no-go"? We'll design a stunning and eye-catching business card that you'll be proud to hand-out to any potential client.
Logo Design:
A company without a logo is like a flower without any scent - how do you think people will recognise you among hundreds of our competitors if you don't have a logo? Correct, they won't!!! This is where we'll be able to help you create that logo that you want people to identify with you and your brand. It's your vision put into a graphic image instead of words.
Promotional Material:
Are you going to submit an informational folder about your company to a possible new client? Are you sending your new CD along with a printed biography to record labels or booking agents? Are you going to have a nicely designed printed resume to send out with your job applications? We'll be assisting you of conveying your message in a graphically pleasing setting.
Posters and Flyers:
Make an impact and keep the attention of your potential customers. A big size poster with good graphic display and the right amount of text will do the trick. Or how about a flyer that people can pick up, put in the pocket and bring home to hand on the refriguator to remind them of your product/event? We pride ourselves in always creating a strong graphical impression of your brand.
Shirts & Merchandise:
A good way of promoting your business, or even making some good money, is by having great looking merchandise at hand - either to sell through a webstore, to sell when you're out at music venues, on tours, at fairs or such. We'll gladly help you design t-shirts, caps, stickers or other merchandise products.